We love eating unpretentious, flavoursome food made with passion and the best seasonal ingredients. So that is also how we love to cook it.
Our menus change daily and are set. That's because they are developed from the foods that are in sea­son in our gar­dens and in our neighbour's gardens, the fish our old fishermen have caught and the ingredients we have available in our remote, off-grid location. All our meals are special and inspired by the classic traditions of our Italian families and made possible by local knowledge of what grows in the rainforest. And, of course, we will always strive to make all our guests feel at home by ensuring our vegetarian and vegan friends can also enjoy our cuisine. For our younger guests, we will be happy to cook just about anything, from plain pasta to a breaded-chicken a la milanese, our children's favourite!
Every amazing day with us starts with delicious breads straight from the oven and comes to an end with an aperitivo followed by a four-course dinner. Fine dining doesn't get much simpler.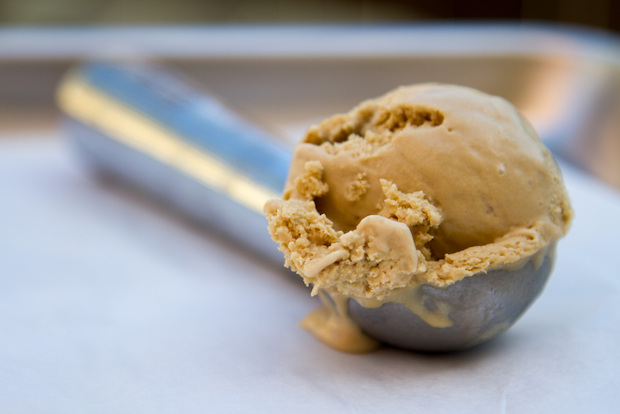 There's no better way to end one of our four-course delicious dinners than to tuck into a real, Italian gelato freshly made in the rainforest. As with all the food we make, we like to keep it simple, so our gelato is made with nothing more than fresh milk and cream from a nearby farm, Costa Rican cane sugar and egg yolks straight from our chicken coop. We love making vanilla and chocolate ice creams, the cornerstones of any Italian gelateria, while our roasted pineapple, banana and coconut gelati all use ingredients straight from our garden and perfectly match our tropical surroundings.
Our very favourite for a hot, lazy afternoon is an affogato, an Italian classic of vanilla ice-cream drowned in hot espresso. It sounds simple enough, but believe us, bringing our professional Italian ice cream maker and espresso machine to the rainforest was no easy feat, let alone ensuring that such power hungry appliances would work on 100% clean energy, courtesy of our small hydroelectric turbine.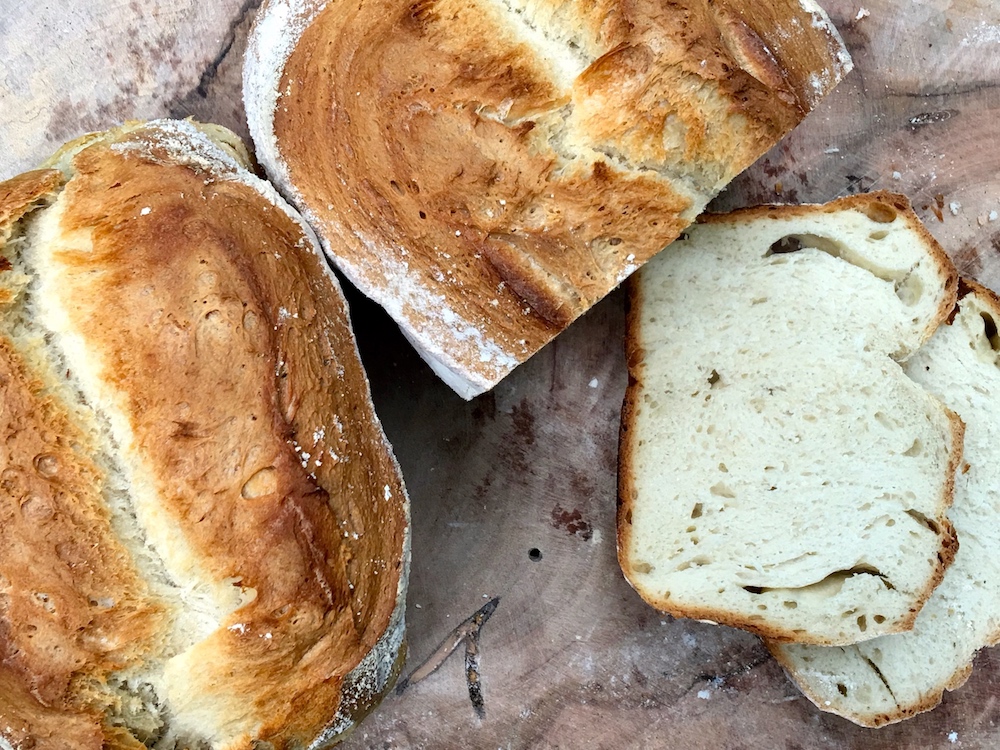 Breads straight from the oven
It is not an exaggeration to say that a risen loaf in the rainforest is almost a miracle. However, just as with fresh pasta, we could not give up on this amazing staple food of any proper Italian kitchen. We have perfected the art of crusty filoni loafs, soft white panini rolls and even simple breakfast sliced bread, pane in cassetta.
And as with any Italian kitchen, we extend to concept of bread making to white Genovese focaccias, Roman pizza rossa and much more. For something sweeter, our small rainforest forno is no stranger to simple biscotti and crostate, jam tarts made with our very own star fruit or pineapple jams. And whenever we collect ripe bananas from our tropical gardens, we'll always bake a ciambellone with a tropical twist.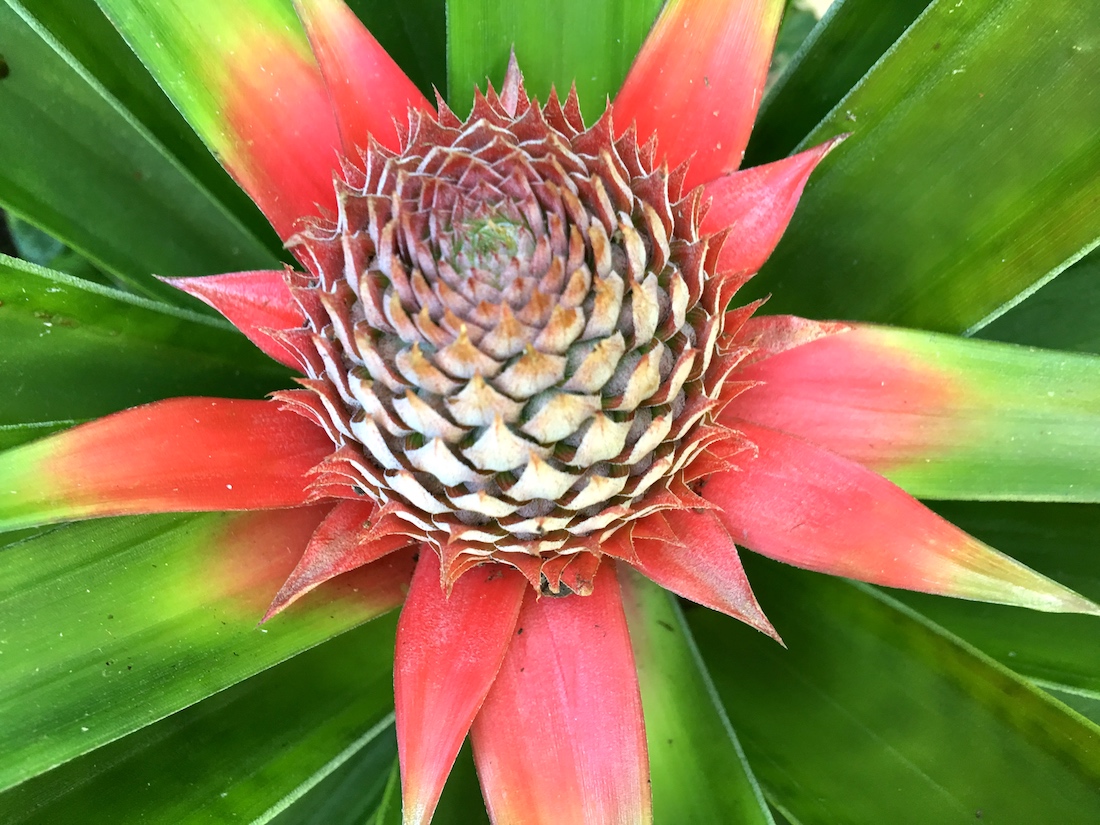 Organic fruit and vegetables
Our tropical garden gifts us with a large variety of fresh, organic fruits and vegetables. Pineapples, papayas and many types of bananas grow easily in our hot and humid climate. All we do is plant new shoots and mother nature takes care of the rest as no insects seem to be able to eat them. Picking those fruits at the right time is crucial though, as ripe fruits will quickly be devoured by squirrel monkeys, coatis, opossums and birds. Other fruits, such as water apples, star fruit, cas and araza grow so abundantly, we can share them with all our local wildlife. We are also slowly increasing the amount of vegetables and herbs we grow, from hot chilli peppers to yucca, oregano, basil and our very favourite, chaya or tree spinach, one of the most important edible-leaved plants in the tropics and long used by the Mayans as a food crop and a medicinal plant. Even the slice of lime in your gin & tonic comes straight from one of our trees…salud!
Micro roasted artisan coffee
Café Bohío is a micro-roaster located on Playa Jaco. Their beans come straight from Tarrazú, Costa Rica's world famous high-altitude coffee region. Only roasting in small batches, Bohio delivers high-quality, fresh and fragrant artisanal coffee time after time.
Here at Golfo Dulce Retreat we stock Bohio's Ritual, a medium roast, balanced coffee with dry fruits, floral notes and subtle hints of dark chocolate which we think is best enjoyed with our Chemex pour-over coffee maker. We are also big fans of Bohio's Ubaldo, a stronger dark roast with distinct chocolate notes and low acidity which we use with our Simonelli espresso machine. And in order to brew the best cup, we always grind our coffee beans to order.
Homemade, fresh egg pasta (pasta all'uovo fatta in casa) was the cornerstone of cooking in our grandmothers' kitchens back in Rome and Florence. That's where we learnt, even before we could read a recipe, to turn simple ingredients into mounds of golden fettuccine and tagliatelle.
Just like we would in Italy, here in the Costa Rican rainforest, we use only three basic ingredients to make all our pasta from scratch: fresh eggs laid by our chickens, Costa Rican flour and our own spring mountain water. All are the hallmark of simplicity, yet so vital in making a meal truly memorable.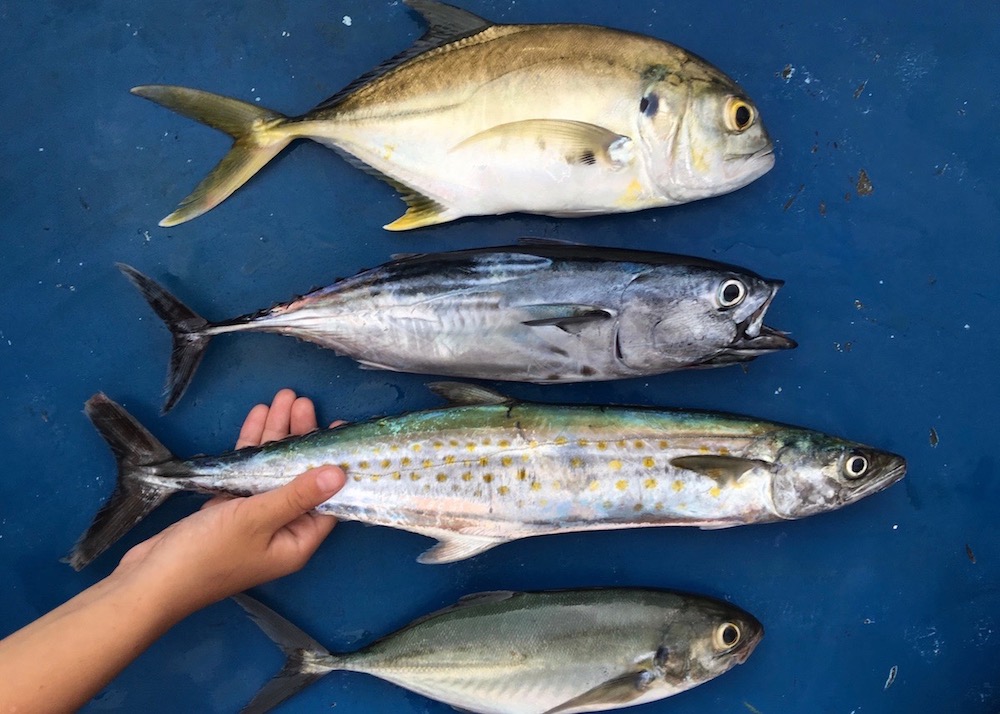 Sustainable line-caught fish
Fish is very big on our menus as we are blessed with waters at our doorsteps brimming with it. Small barracudas, or picudas as the locals call them, bonitos, jacks, tunas and mackerels are what we fish the most, either from a kayak or from the shores of our own beach. No fancy fishing equipment is needed here, just a string wound up around a wooden reel. Because our fishing methods are truly low impact and sustainable, it means that there's plenty of fish for everyone, us, all marine life and, closer to our hearts, our resident dolphins.
Each fish that arrives in our kitchen has been caught fairly, with time and dedication by us or one of our elderly neighbours. We never buy from fish mongers as we are not comfortable with the unacceptable levels of by-catch (sometimes as high as 30%) that is associated with commercial fishing practices. We specifically avoid Mahi-Mahi (Dorado) as the catch of at-risk species such as sea turtles (but also seabirds and dolphins) is a serious concern. We also avoid shrimps whose production is highly linked to the destruction of Mangrove habitats around the world.
So we make sure that all fish that is served on your plate has been cooked with love and simplicity, to preserve its freshness and authentic flavour.
Fresh, nutritious eggs are a vital ingredient in our delicious ice creams, scrumptious cakes and many other delightful foods we prepare for our friends, family and guests. All our eggs come straight from our rainforest chickens, who forage in the rocks all day long and love eating our vegetable scraps and termite nests which we find in nearby trees.
Our chickens are never alone in the rainforest and are often visited by curassows and their chicks, looking for a bit of left-over corn, and squirrel monkeys above in the tree canopy. Because we feed our chickens a simple and natural diet, we don't always collect all the eggs we need, so when we need more, we ask our neighbour just a few beaches along the gulf for more!
Founded by a group of friends, the Craft Brewing Company is one of Costa Rica's better established, artisanal, low-volume brewing house in the country. It's also our favourite!
We stock the delicious Libertas Tropical, a refreshing golden ale with a smooth and balanced taste which makes the ideal companion to our lighter meals... not to mention our pasta.
We make sure that this wonderful beer is refrigerated from when it is brewed, during transportation and right until we can all enjoy it. Not an easy task when you live off-grid in a rainforest... but definitely worth it.